Latvia's 2021 Productivity Report analyses productivity factors and dynamics, presents scenarios for Latvia's economic development over the long term and examines in depth the impact on productivity of remote working. The report contains recommendations for policy-makers.
Before the 2021 report was submitted to the government and the European Commission on 2 December 2020, it was presented to a broad range of partners at a conference entitled 'Productivity Dialogue 2021'.
The report consists of 2 chapters. Chapter 1 analyses Latvia's productivity dynamics, productivity factors and scenarios for long-term development. Chapter 2 describes trends in remote working and its impact on productivity, as well as policy challenges associated with remote working and policies for promoting it. At the end of the report there are conclusions and recommendations to improve policy.
Executive summary of the Latvia's 2021 Productivity Report (PDF)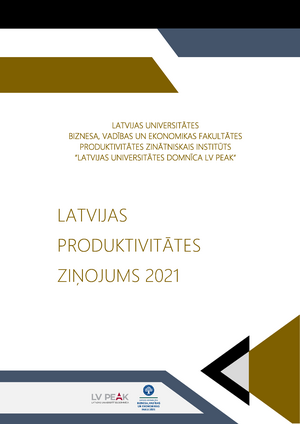 "Latvia's 2020 Productivity Report" provides a scientific basis for state aid criteria that boost companies' productivity. The criteria were developed based on the analysis of the ORBIS database on the indicators of Latvian companies. In the future, productivity reports will be developed annually with the aim of conducting an independent, objective and science-based analysis of competitiveness and productivity, and developing policy recommendations for the Latvian government.
Executive summary of the productivity report 2020 for Latvia (PDF)